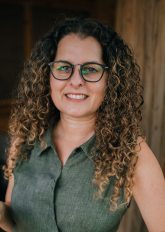 Michel Zohar Ben-Dor
Michel Zohar Ben-Dor is a writer with two separate callings. In one, she writes marketing content for business owners and teaches students. In the other she is a creative writer, who pens poetry, leads writing workshops, and gives lectures. She holds a B.A with honors in humanities and an M.A with honors in communications and new media. She is a certified art instructor and graduated from Minshar School of Art with a certificate in writing studies.
Aside from her career in writing, Michel is also an active partner in the family winery that produces boutique wines, where she manages the winery's digital media and online marketing.
Michel lives in a small village and works from her home studio, overlooking the vineyards. For years she had fought to bring to light the voices of the three women from many centuries ago who are the heroines of her debut book.