A literary agency represents writers and their written works with publishers, film producers and studios, theater producers etc. The main goal of a literary agency is to bring a book to the world by finding the relevant publisher to execute the translation, editing and printing . The best way to do get the most exposure so is to work with other literary  agents around the world, who are well acquainted with the book market in their countries – professionals and readers.
eBookPro's literary agents have established connections worldwide. They assist in the negotiation process and perform various services for authors such as: connect the author's work with appropriate publishers, negotiate contracts, ensure royalty payments etc.
eBookPro also represents authors at book-fairs such as: London, Bologna, New-York, Beijing and Frankfurt where meeting literary agents from all over the world is a common goal. These book-fairs allow eBookPro to achieve significant results in a short period of time.
eBookPro's work is carried out with a deep understanding of the writers, their work and the global and personal strategy. It strives for the process and outcome to be successful and has many success stories, one of which is the printing of a first edition including 8,000 marketing books in China!
While this work can be carried out by the authors themselves, it requires insider information, contacts and experience. It is much more effective to use the services of local literary agencies.
Representing Authors in Global Book Fairs
International book fairs are a quick and efficient way to enrich the company's list of contacts in the world of publishing and literary agencies and map them out according to country and fields of interest. Presenting physical books at eBookPro's booth increases interest in Israeli books and draws the relevant professionals. After initiating personal contact with said professionals, communication is maintained through e-mail and phone calls, until the following book fair. Ties with publishers and agencies are reinforced through meetings at the world's biggest book fairs, as there is nothing better than the personal contact and trust established in a face-to-face meeting. This is also a wonderful opportunity to present new books in the catalog and test their compatibility with various markets.
China is the second largest market in the world today which is continuously growing and widening its interests.
eBookPro has opened the doors of this market and maintains cooperation with various Chinese representatives. eBookPro also promotes Chinese content to the world.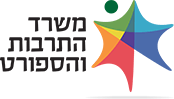 Ministry of Culture and Sport
We thank the Ministry of Culture and Sport for their support in our activities.