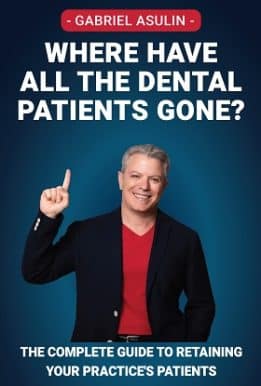 Author: Gabriel Asulin
Language: English
Category: Food, Health & Lifestyle
Where Have All the dental Patients Gone?
a proven method to increas sales and profitability that is working seccesfully at thousands of dental practices around the world.
number 1 best seller in dental materials catagory

translated into english, spanish, russian, bulgarian and hebrew

writen by gabriel asulin, global "guru" in the field of marketing and managing dental practices

based on more than 15 years of experience consulting and training arond the world
"Turn your Dental Practice into a Successful Business – the Gabriel Asulin method" is a Practical Guide for managing,marketing and promotion. This bestselling book offers practical and effective solutions that can be easily applied to any dental practice and quickly increase sales and profitabillity, and that includes yours.
The unique management and marketing methods unveiled in ths book are successfully used by Thousands of dental practices around the world and have proven to significantly improve sales and profitability.
for over 15 years, gabriel asulin has been a world-renowned expert in marketing and promoting dental practiceses and popular lecturer worldwide and now he's ready to share the secrets to his success with you.
In this book, you will learn all about:
◆ How to attract new Patients – page 137
◆ How to retain existing Patients – page 15
◆ How to close big treatment plans – page 87
◆ How to manage the reception area – page 37
◆ How to perform an effective re-call – page 21
◆ How to improve the hygienist's productivity – page 77
◆ How and where to advertise – page 140
◆ What to consider before purchasing a new dental practice – page 167
◆ How to reward the staff and increase their motivation – page 59
◆ How to increase the clinic's profitability – page 164
◆ How to deal with clients who perform a market survey – page 134
◆ How to increase the amount of clinic recommendations – page 24