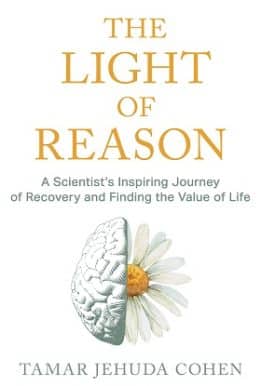 The Light of Reason
Her illness almost destroyed her life. It ended up giving her hope.
At the height of her professional career, groundbreaking immunologist Dr. Tamar Jehuda Cohen was diagnosed with a life-threatening brain aneurism. While doctors debated where and how they will operate, open, and remove parts of her brain, Tamar's thoughts wander on the procedure's effects on her mind – and her soul.
In the blink of an eye, Tamar's professional life as a researcher, inventor, entrepreneur, lecturer, and scientist, built over twenty long years – was lost. In its place came epilepsy, severe pain, loss of speech, and other impossible obstacles imposed by complex brain surgeries.
Yet for Tamar, the aneurism was a godsend and a revelation. In the light of the struggles it brings, she found the energy and strength to grow, develop—and eventually, heal. With remarkable resilience, tenacity, vision, and hope; with plenty of compassion and zero self-pity, The Light of Reason is a life-affirming, courage-inspiring road through a mind faced with its own mortality, and the inner peace that lies within every single one of us.