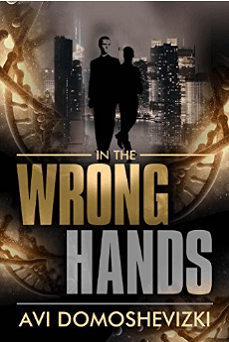 Author: Avi Domoshevizki
Language: English
Category: Mystery, Thriller & Suspense
In the Wrong Hands
In the Wrong Hands, a thriller full of unexpected twists and intriguing characters, delves into the real-life world of DNA editing, where science and science fiction are about to meet and change the face of medicine forever
Two unrelated bodies…
A homeland security agent is found dead. Shocking evidence reveals the cause of death is the simultaneous collapse of the man's blood vessels. When a second body, sharing the same gruesome symptoms is found the hunt is on for a frightening new kind of killer.
Two friends fighting for their lives…
A vicious assault on his leading genetics researcher puts Dr. Ronni Saar, the CEO of Double N, and his friend Gadi, a former military police investigator, on the trail of a sophisticated killer. The deeper Gadi digs, and the more he learns, the more dangerous the terrain becomes. When the search for the truth puts the two men and their wives directly in the path of the killer, they learn a painful truth – no one is beyond suspicion.
And then the killer knocks on their door…
After a long year of research, the author, an experienced high-tech entrepreneur, paints a realistic and sometimes frightening picture of where the science of DNA manipulation can go when left in the wrong hands. Science or science fiction? You decide.

Additional book in this series: In "Green Kills" Ronni and Gadi are in a race against the clock to solve what seem to be three unrelated murder cases before Ronni's company goes out of money. In the search for a solution they must first overcome a cold blooded killer who is determined to prevent them from finding the truth.

-->