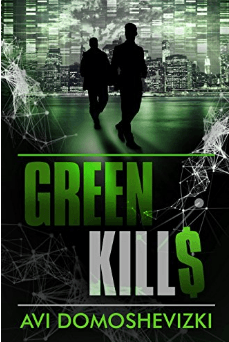 Author: Avi Domoshevizki
Language: English
Category: Mystery, Thriller & Suspense
Green Kills
The CEO of a promising start-up company is found dead in a luxurious hotel room.
Two men who underwent what were supposed to be simple surgical procedures died on the operating table in two different hospitals.
Are the deaths related?
Ronnie Saar, a newly promoted partner in a leading venture capital fund, is unexpectedly nominated to chair the board of a successful pharmaceutical startup company. But before he can reap the rewards of his promotion, he must deal with these unexpected deaths and other ominous developments that threaten his and his soon-to-be bride lives.
His attempts to get to the truth expose a bitter reality: In the business world, money is more valuable than human lives.
Fast-paced thriller
Ronnie has a lot to lose. His job, the bright future with the woman he loves and if not playing it safe – his life. Everybody around him offers the same advice – sell and move on with your life. But as his best friend Gady, a former military investigator in the Israeli army, discovers – things are not what they seem. A mysterious and powerful player has his own plan and he has no intention to stop until it is accomplished.
Green Kills is a fast-paced thriller with a complex plot exposing what goes on behind closed doors at the big money making firms. It leads the reader down the complicated path of venture capital funds' decision-making, all the way to the unexpected finale.
The author is an experienced and successful high-tech entrepreneur who also worked more than thirteen years as a venture capitalist in Israeli and American venture capital funds. This book provides an intimate look behind the scenes of the mysterious "high-tech" world.
Additional book in this series: In "In the Wrong Hands" Ronni and Gadi find themselves involved in a robbery of a Genetic breakthrough technology affair that entangles the clashing plans of the Head of a crime family, the US attorney, A desperate scientist, and a vicious killer.