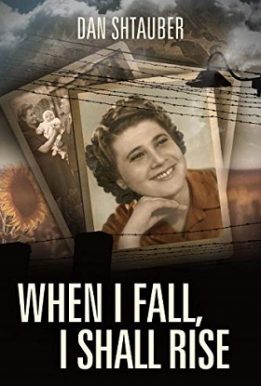 Author: Dan Shtauber
Language: English
Category: ביוגרפיה, יהדות, שואה
When I Fall, I Shall Rise
Risa was shipped together with many other Jews to the Oradea Ghetto and from there to the Plaszow Labor Camp and later to the Ober-Altstadt Labor camp. And even this was not enough… Risa was sent to the Auschwitz Death Camp to be slaughtered!

But, she survived!

Having survived, she met her husband – Mordechai Tzvi and they created a family which included 4 sons, 22 grandkids and 34 great-grandkids!

At the age of 94 and living her life in Israel, she still feels victorious when remembering those horrible years!

This book is a special gift given to Risa Shtauber during an emotional event, in the presence of all of her descendants: sons, grandchildren and great grandchildren.