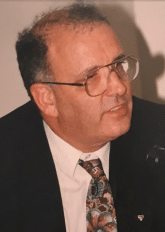 Zohar Peri
Zohar Peri has 30 years of experience representing Israel in international markets and has been a lead negotiator on official economic transactions with Israel's major trading partners.
Peri served as director of the Foreign Trade Administration in the Ministry of Industry and Trade, a post he held from 1989. As director, he was responsible for recommending and implementing Israel's foreign trade and import policy He was also managing the investment and trade promotion activities of economic attachés around the world.
Peri played a leading role in official trade negotiations (multilateral agreements, the Free Trade Area accords (FTAs) with Israel's major trading partners and establishing bilateral trade relations with the former Soviet Union, Eastern Europe, the Middle East, Latin America, and Asia).
Peri served as Israel's trade representative in Switzerland and in Bonn, Germany. During his tenure in Switzerland, he was a delegate with several international economic organizations in Geneva and represented Israel at the GATT and WTO talks from 1977-1980.
Zohar Peri began his term as Economic Minister to North America in 2001 and served in this post for five years. He retired from the Israeli government in 2006.
Peri was born in Jerusalem in 1940 and is married with two children. He graduated from the Hebrew University with a degree in Economics and Business Administration.