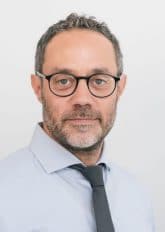 T. J. Warsha
T. J. Warsha is a prominent lawyer, specializing in human rights for the past 20 years. He is founder and director of Israel's leading immigration law firm.
Over the years, Warsha has successfully led many fundamental constitutional cases and is responsible for important laws and precedents. Warsha also regularly gives lectures at universities and frequently appears on television.
Stemming from Warsha's internship in major crime at the district court of Tel Aviv and his exposure to multiple cases of sexual assault, along with the hardships of doing justice, Warsha's first book focuses on the investigation of a sexual assault case in the age of #metoo.
This is a detective thriller, which introduced to the world aging former detective Harry Mitchel and his teenage son Joey. The book was enthusiastically received in Israel and became a bestseller.
In addition to the pursuit of justice, Warsha holds an academic degree in film and television.
T. J. Warsha is passionate about music, art, and travel. He is married and a dedicated father of two teenage daughters.