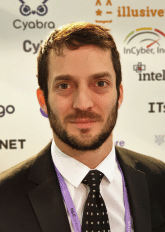 T.D. Mandowsky
T.D. Mandowsky is a former officer in the Israeli Security Agency (ISA), who served the organization for 5 years while studying at the Hebrew University of Jerusalem.
After the 2014 battles, Mandowsky decided to leave the organization and focus on writing.
Nowadays Tamir is married, lives in Tel-Aviv, and works as a financial analyst.
"Fracture Point" is his first novel.