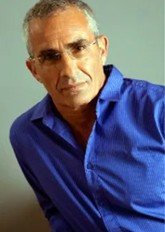 Niv Kaplan
Niv Kaplan was born on Kibbutz Ayelet Hashahar in Northern Israel in 1959. At age 11 he moved with his parents to NYC for three years. After completing high school, Niv served three years in a special-forces reconnaissance outfit and had taken an active part in forming the IDF's Alpine unit which he served in reserve duty.
Niv received his BsC degree in Business Administration (Marketing) from Cal State University Northridge (CSUN) in 1992, spending close to ten years in New York and Los Angeles. He started writing "Disappearance" right after receiving his University degree, completing it in 1997. The book was written in English, translated and published in Hebrew in Israel in June, 2012, and had since become a bestseller, received praise for its suspenseful plot, precise structure, and identifiable characters, and is considered a surprise success for a first time author in Israel.
Niv's second book has been completed in English this year, translated to Hebrew and will be in bookstores this year.
Niv has been working in the Aerospace industry for the last 19 years, marketing electro-optical sensors to fighter aircraft. He lives in Tel Aviv with his wife Tali and their seven children.