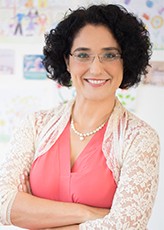 Michal Wimmer
Michal Wimmer, MA, is an art therapist and international expert on the analysis of children's drawings. She has years of experience supporting families with children, age 2-18, with emotional and social difficulties by using their drawings. Michal is also the founder of an advanced studies program, introducing social workers, psychologists and art therapists, as well as elementary and preschool teachers to the world of children's drawing analysis. The program is a two-year course of graduate study, based on practical exercises, various psychological theories, and parental guidance.
A popular speaker, Michal has given hundreds of workshops and keynotes about children's drawing analysis at universities, colleges, and private events. She is often interviewed on television shows and by magazines and newspapers for insights about parenting through children's drawings. Michal manages a national forum that provides guidance to parents based on their children's drawings. Finally, she provides expert written testimony to courts of law, based on analysis of children's drawings, mainly in the context of family abuse and children at risk.
Michal runs a private clinic for treating children, adolescents, and adults. She also works as an art therapist in psychiatric hospitals and mental health clinics. Recently, she founded Children's Drawing Center, a website for the interpretation of children's drawing. Her therapeutic strategy is deeply influenced by the classic psychoanalytic approaches of Freud, Jung & Lacan.
Please visit Michal's website: www.childrendrawingcenter.com