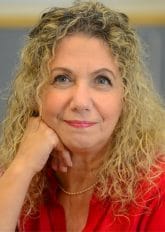 Prof. Irit Keynan
Irit Keynan is a writer, poet, and historian. Two of her previous books, The Hunger Has Not Abated on Holocaust survivors in the DP camps in Germany immediately after World War II, and Psychological War Trauma and Society – Like a Hidden Wound, have won literary awards. She also publishes opinion essays in the media and writes for children.
Currently, Prof. Keynan teaches at the School of Education in the College of Management in Rishon Le'Zion, Israel. Her research interests, where she has published extensively, include collective memory, war trauma, reconciliation, democracy, multiculturalism, and social justice. Irit is also active in initiatives for reconciliation and overcoming the psychological barriers of collective memory.
Irit was born in Israel and lives with her partner in Tel Aviv. She is a mother of two and a grandmother of four.