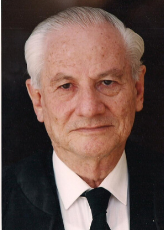 Supreme justice Gabriel Bach R.I.P
Supreme court Justice Gabriel Bach – The child who was kicked out of Germany by the Nazis, became one of the prosecuting attorneys at the Adolf Eichmann trial, together with Gideon Hausner. More than fifty years have passed since the Eichmann trial, which continues to generate interest throughout the world and was one of the highlights of Bach's professional career.
Gabriel Bach held senior positions in the Israeli legal system. When he served as state prosecutor and later as a Supreme Court justice, he handled many cases, including some that shocked the country. He dealt with cases of murder and violence, with complex cases involving state security, with the first white-collar crimes in the history of the young State of Israel, and with precedent-setting petitions to the Supreme Court. He was even sent on secret missions abroad. Together with his stubborn struggle against inappropriate societal norms, he always emphasized the importance of protecting the rights of the accused and the obligation to act with dignity and fairness towards every person.
When he was honored at the time of his retirement from the Supreme Court, Justice Aharon Barak, who served at that time as President of the court said: "We all love Gabi. His solidity gives us a hand-hold in difficult situations. His intelligence serves as a guide to us. His decency and his integrity have been a North Star for us, guiding our path. His feverish optimism and his wry sense of humor helped us get through many difficult hours. He possesses a gentlemanliness that cannot be found in the environs that we inhabit."