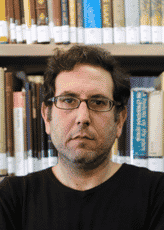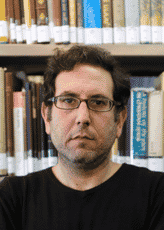 E. Samuel
E. Samuel is the international pen name of Eli Shmueli – an award-winning author and poet living in Jerusalem, Israel. His writing, described as "dirty realism", was compared by commentators to Bukowski's novels and to Orwell's early works, and features the people commonly ignored by modern society – the unsuccessful, those who did not accomplish their dreams. His poems appear in the printed media in Israel, and were translated into English, Spanish and Arabic.
Shmueli's debut novel, Under Neon Lights (published as "Margins Man", Pardes publishing, 2015), was awarded four literary prizes including the Ministry of Culture Prize, the Goldberg Foundation prize for best manuscript, the Rabinovich Foundation Award, and the prestigious Pardes Fellowship of the National Library of Israel.
Following the publication of his poetry book The God That Failed Is You (Pardes Publishing, 2017) and the controversial novel The Poet and the Stripper (Am Oved Publishers, 2020), Shmueli received the Israeli Prime Minister Literary Award.