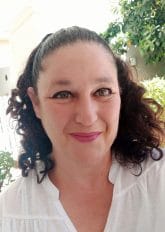 Dr. Gilat Trabelsi
Dr. Gilat Trabelsi is the head of the Special Education Department at Kaye Academic College for Education in Beer-Sheva, Israel. She is a senior lecturer, researcher, and educational counselor for special education. She graduated with honors from Kibbutzim College, Tel- Aviv with a teaching diploma and B.Ed., acquired an M.A with honors from The Hebrew University in Jerusalem, and a Ph.D. from Bar-Ilan University in Ramat-Gan.
Dr. Trabelsi is an active researcher. Her main interest lies in the field of cognitive intervention and mediation, accommodated and adaptive teaching, inclusive education, ADHD, and life-long SLD.
She has won several research grants, lectures at international conferences, publishes academic papers and is considered an expert and authority on adaptive teaching in the Israeli education.