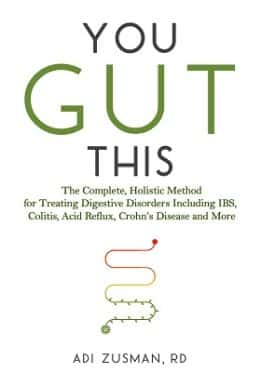 Author: Adi Zusman
Language: English
Category: Food, Health & Lifestyle
You Gut This
Taking on IBS, Crohn's, Colitis, or any other digestive ailment? You Gut This.
The difficulties and discomforts surrounding digestion ailments usually involve different pills, diets, checkups, or even surgical intervention. Those changes can be hard to digest, to say the least. But in You Gut This, the professional, multifaceted guide from clinical dietitian Adi Zusman RD, you can find a new way to care, treat, and alleviate digestive distress, and soothe your disorder back into deep remission.
Based on the groundbreaking combination of western and integrative medicine, Zusman's Gastro-Integrative module provides a clear path through the foundation and true purpose of our digestion system, and its deeply rooted relationship with your mental and emotional state. Learn how reducing stress, physical therapy, and positive motivation can transform any digestive disorder – and your life.
Readily accessible information on each and every digestive ailment, from causes to potential remedies.

Inspiring testimonies

 and case studies of deep remission in even the worse cases of Crohn's, colitis, and other disorders.
Delicious and nutritious 

menus and recipes

 – adjusted specifically for every stage of your ailment.

Practical dietary recommendations

 derived from over 30 years of clinical experience.
Prepare for a healthier, happier lifestyle. You Gut This.