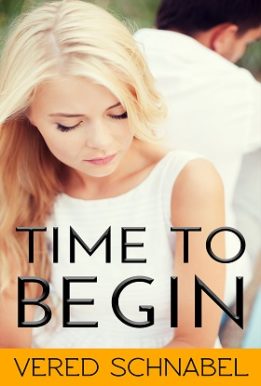 Author: Vered Schnabel
Language: English
Category: Romance & Women's fiction
Time to Begin
The moment she and Rani get divorced, Amalya finds out she's pregnant again. With Rani's baby. The last pregnancy ended badly and destroyed their relationship. It takes her a very long time to tell her news to Yona, her mother, and Anna, her best friend. And Yiftach, her old-new guy. And Rani.
Time to Begin is a beautiful and versatile novel about people who are forced to choose new paths, because the old ones have disappeared beneath their feet.
Why was she thinking of Yona right now? That's what was making her feel sick. Amalya sat on the stairs and put her head between her knees. Rani leaned down and put a hand on her forehead.
"Stop, I'm fine." She pushed his hand away. She tried to get up but stumbled and when she grabbed the railing she bent her fingernail and it hurt so much that she accidentally bit her tongue.
"Ouch," she blurted. Tears filled her eyes.
Rani grabbed her for support. "That's it, I'm driving you, I don't care. Where's your bike?" he asked, not letting go.
"Over there." She motioned with her head.
He helped her down the stairs. "I don't understand who rides a bike to their own divorce ceremony," he said again.
Don't worry about it, you don't have to understand me anymore. You have no further obligations. No children, no dogs, only two small goldfish in a round bowl.
He unlocked the chain with his typical care as Amalya leaned on a nearby fence. He loaded the bike onto his shoulder with such precision that it never even touched his clean shirt. With his free hand he held onto Amalya and they walked away from the rabbinate together, legally and religiously divorced.