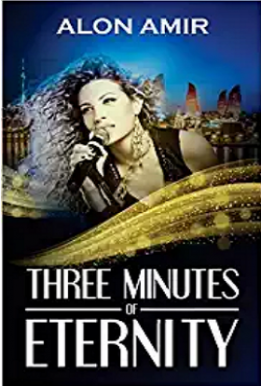 Author: Alon Amir
Language: English
Category: Biographies & Memoirs, Literary Fiction
Three Minutes of Eternity
Get a look at the behind-the-scenes secrets of Eurovision stars!
This is a pop-reality book that unveils the seedy high jinks and backstage shenanigans at the Eurovision Song Contest through the eyes of an active participant. It also glimpses into the political intrigue in Israel surrounding the competition, corruption, romance, and off-camera.
Imagine being sent to a scary country next door to terrorists!
Yanai Tannenbaum, Head of Press for the Israeli delegation to the Eurovision song contest, is asked to work at a competition in Baku, Azerbaijan, a Muslim country having an open border with Iran. He and singer, Yarden Oz, undergo a long and winding journey to represent their country in the competition.
Glamour, alcohol, sequins, and 15 security guards to protect you against kidnapping or death!
Once in Baku, they are, of course, drawn into romance and alcohol binging. They succeed, in their unique and vulgar way, to enchant those around them. What they did not count on – among the glamour, sequins, and gimmicks – is having to be guarded against kidnapping by 15 special agents and knowing that they could die at any moment!