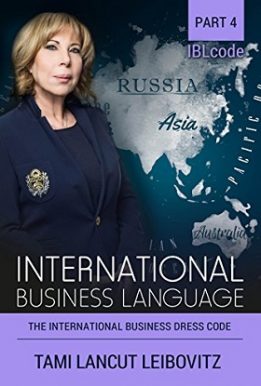 INTERNATIONAL BUSINESS – The International Business Dress Code
Brand a personal image across the globe
International Business Language (IBL) Code is a premier guide for executives, businesspeople, politicians, celebrities, diplomats, and more seeking to brand a personal image across the globe.Let yourself be understood and appreciated with the help of the IBL Code.
Tami Lancut Leibovitz assists you in your effort to get to know the cultural traditions of foreign countries, you can systematically learn the International Business Language Code of success by using the complete IBL Code series:
Part 1 – The Basic Concepts of Multicultural World
Part 2 – The Wisdom of Networking
Part 3 – Verbal & Non-Verbal Business Communication
Part 4 – The International Business Dress Code
Part 5 – Formal & Informal Hosting Skills
Part 6 – Protocol, Etiquette and Business Culture
Part 7 – Media Communication and Public Performance
Part 8 – Practical Guide to Local Business Culture Per Country
Part 4 – The International Business Dress Code
In this part, we will learn how to upgrade our personal appearance and how to attain the worthy status to which we aspire. We will acquaint ourselves with the details of international dress code, we shall review the international dress protocol and provide you with the means of developing a personal style and cultivating an impressive image which is representative, attractive, distinctive, and indispensable in the global business arena. We will assist you to understand the importance of fashion and to adapt it to fields of employment and the likely daily routine. We will outline the rules of the classical wardrobe with its range of styles and mark the characteristics of global wear.
A must-have book
This is a must-have book for entrepreneurs, investors, executives, and fundraisers, as well as politicians, diplomats, celebrities, and anyone who wants to understand the inner workings of foreign countries.
Tami Lancut Leibovitz founded the International Institute for Image, Communication, and Etiquette in Business, Society, and Politics. As an advisor to public figures, senior executives, and diplomats, with thirty years of experience, Tami's books have become mandatory reading for people in business, media, and the public arena. IBL Code is a product of life-long, international expertise in the management of personal image branding.