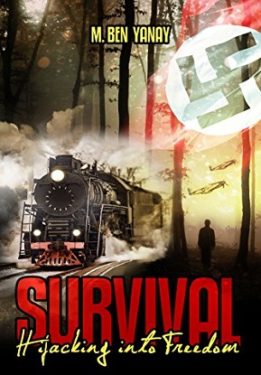 Author: Motti Ben Yanay
Language: English
Category: Mystery, Thriller & Suspense
Survival: Hijacking into Freedom
World War II through the eyes of four exceptional heroes
Janus is a Hungarian Jew serving in the Hungarian Army. When his brigade is put to the service of the fleeing German forces, at end of the Second World War, Janus finds himself driving an SS truck under heavy Soviet attacks in the Hungarian woods. With his wife and children on his mind, he tries to escape.
An engulfing human drama based on real historical events
In the woods, Janus meets Bob, an Afro-American pilot from the famous all black "Tuskegee Squadron" unit. Bob is shot down at war and captured by a group of Partisans, where he meets Ina, a Russian medical officer who dreams of a new life in America. Against all odds, and despite their different backgrounds, religions and languages, these three uncommon heroes manage to capture a German train locomotive and try to drive it to their freedom.
All the while, Janus's wife, Terry, endures war with their three children, first in the city, and then at the Ghetto of Debrecen, their hometown. After her middle child is murdered, the family is sent to extermination in Auschwitz, but miraculously saved at the last moment.
A remarkable view of World War II read with bated breath
Towards the end of the war, these four stories converge into one unbelievable drama, providing a gripping and multidimensional view of a most significant period in the history of humanity.