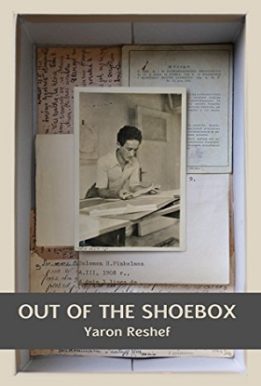 Author: Yaron Reshef
Language: English
Category: Biographies & Memoirs
Out Of The Shoebox
Did you ever get a phone call that changed your life?
That is what happened to author of this book.
A mysterious unexpected phone call hurls Yaron Reshef into an intensive two-year journey, during which he has to solve a mystery that took shape in the 1930s and gradually unfolded in the present. A mysterious lot, a forgotten bank account, a people long gone "" along with their memory which were obliterated during the Holocaust. All of these rise to the surface, bearing with them memories and emotions previously hidden away in the shoebox.
Out of the Shoebox is a fascinating journal that reads like a detective story, comes across as an imaginative quest into the past, yet is the true personal story of the writer, Yaron Reshef.
"I had no intention of writing a book. I had no need to write a story in general nor a story about my family and the Holocaust in particular. But life being what it is, sometimes things happen in mysterious, even surprising ways. Stuff that used to take center stage moves to the background, and background stuff moves downstage and center. That's what happened in my case."
Yaron Reshef
***
I read this fascinating book as a "quest story" and couldn't stop reading it even for one moment. It is the story of the children of holocaust victims".
Rose Finkelman
"Together with its literary values, Yaron Reshef's book," Out of the Shoebox", can be used as a textbook or a model for anyone who believes in Intuitive Methods of information search".
A. Panini
"It's a long time since I enjoyed so much reading a historical story. It is an optimistic novel that tells us about the nature of reconciliation and acceptance".
Moses Bari
Out of the shoebox reads absolutely like a detective story. When I read Yaron's book I felt like "hearing the author voice reading me the story". It was a spiritual experience for me.