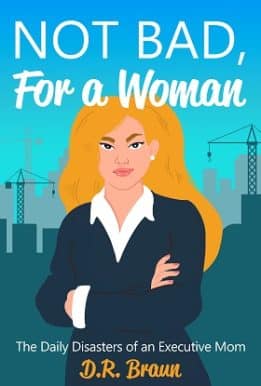 Not Bad For a Woman
I Don't Know How She Does It meets The Big Short in a smart and racy debut with a uniquely brazen heroine.
It's the end of the sweet, sweet 1990s, and I'm surrounded by success. Meaning, everyone around me is successful. I'm just the one who builds them up, so to speak. I'm caught in the middle of the emerging (testosterone-filled) hi-tech bubble, having to climb figurative (and literal) mountains just to get a "thank you." Don't you worry, though – I'm down with handling other people's money for profit. You think I got it made? You try juggling a company, a husband, a family, clients, children, contractors, and an especially talkative cat in the middle of a global crisis.
Biting and uncompromising, D.R. Braun's take on the power of assertive women in a male-dominant industry and the economic struggles that led to the 2008 crisis holds no punches, shining a bright light on the dramatic life of a modern working mom.