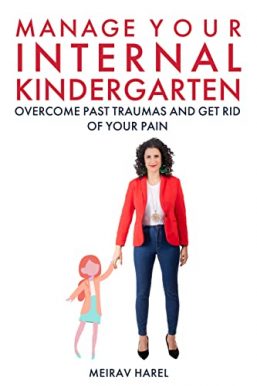 Author: Meirav Harel
Language: English
Category: Business, Self-Help, How To
Manage Your Internal Kindergarten
Learn how to govern your internal children with a unique therapeutic model that will free you from the emotional pain and suffering that have been weighing on you for years.
Most of us are usually unaware that we are carrying traumas and scars from our childhood which have a significant influence on our adult life and the potential to cause long-term issues.
To heal ourselves and prevent suffering, pressure, depression, and anxiety, we must learn how to effectively manage our internal kindergarten – the children within us that represent the entirety of our childhood experiences and memories.
Manage Your Internal Kindergarten is written in clear and simple language and is a guide to self-help through the children within us.
The book introduces a unique treatment model meant to help you turn reality around and teach you:
Who you truly are
How you are being controlled in the present by who you were in the past
How you can provide attention to the suffering children within you, and heal them
How to stop acting through habit
How to be kinder to yourself and your surroundings