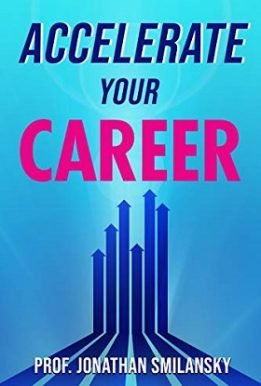 Accelerate Your Career
Isn't it time to boost your career?
All of us have jobs and careers. Every few years we advance, experience some changes, and move into the next position.
The purpose of this book is to allow you to jump significantly ahead: To break out of the usual pace of progress and take a quantum leap upward.
In his book Accelerate Your Career, Prof. Jonathan Smilansky, an international expert in career development and the former Global Human Resources EVP at Universal and at the Meridien hotel chain provides you with the insights and tools you need in order to deal with important issues such as:
What is a good career?
How do I project my true strengths so that recruiters will choose me as their best candidate?
How to respond in a job interview to difficult question such as: "What are your weaknesses?"
This book can enable you to accelerate your career to a much higher place, maybe even beyond your own expectations or self-assessment of your capabilities.
There is nothing magical about building a strong career. As you read, you will be exposed to a systematic and detailed process, based on the experience of many successful individuals, allowing you to take responsibility for your life and accelerate the achievement of your professional goals!