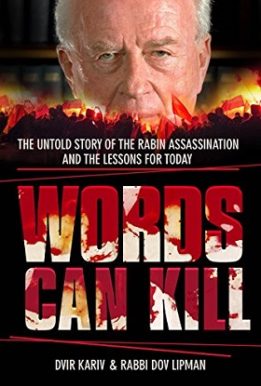 Author: Dvir Kariv
Language: English
Category: ביוגרפיה, יהדות, שואה
Words can kill
What would you do if your hero was murdered and you were alone with his murderer, armed with a loaded gun?
Dvir Kariv's world was turned upside down when Israeli Prime Minister Yitzchak Rabin was assassinated. His hopes for a better future for him and his new bride, and his dreams of a better Israel were shattered when Yigal Amir shot and killed Dvir's childhood idol and adult hero. And then Dvir, an officer in Israel's Internal Security Agency (Shin Bet), found himself in interrogation room with Rabin's assassin – and Dvir decided to kill him.
THRILLING
The writer takes us through his experiences on the night of the assassination, his meeting with the assassin, and the background to his decision to kill the assassin. He then takes us through his mindset as the moment of truth came. The writer also describes his personal trauma with the experience and how he was forced to confront it.
EDUCATIONAL
Woven masterfully into the thrilling story, the book includes the fascinating history of Jewish extremism in Israel, a description of the politics, tensions, and inflammatory language which led to Rabin's assassination, the soul searching which the assassination caused in Israel, and lessons which the world must learn and apply in modern times.
If you love thrilling stories, politics or personal struggles this book is for you.
If you are interested in learning more about the State of Israel and its unique struggles and challenges, this book is a must read.