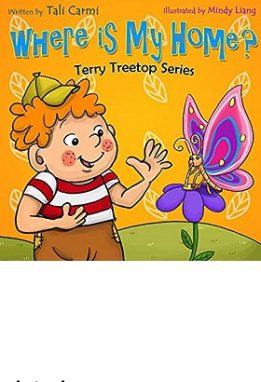 Author: Tali carmi
Language: English
Category: ילדים ונוער
Where Is My Home?
There is no place like home!
Terry Treetop books: Adventure & Education series (Animal Habitats)
This fun children's picture book is about a boy with red hair and freckles named Terry, yet everybody calls him Terry Treetop because he loves climbing trees.
Terry is chasing a beautiful butterfly and wants to go back home.
But where is Terry's home?
And how can he find his way home?
Does the rabbit in the burrow know?
Does the beaver in the lodge know?
Maybe the fawn's mother knows?
Or can Susanne the squirrel help him?
** Don't forget to get your FREE GIFT! **
Do your kids love to listen to stories about the habitat and environment of different kinds of animals?

Do your children like beautiful picture books?

Where is my home? is a sweet children's book written especially for you and your aged 3- 8 children with 18 colorful illustrations.

The story is suitable as a read aloud book for preschoolers or a self-read book for beginner readers.

-->