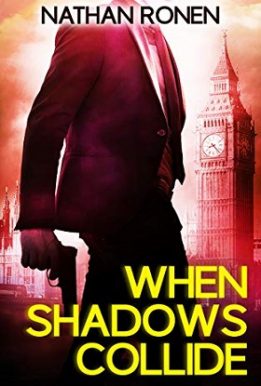 Author: Nathan Ronen
Language: English
Category: מתח, מסתורין, פשע
When Shadows Collide
Betrayed by his allies, he knows that he can trust no one.
Arik Bar-Nathan is one of the most skilled field agents in the international espionage scene. Coming from a childhood in the slums, he has accomplished nearly every goal and is now head of the Caesarea Special Operations Division in the Israeli Mossad, and second in command of the organization.
However, for the first time in his life, things are not going exactly according the plan.
Despite having been assured by the Prime Minister that the position of head of the Mossad would be his, a harsh woman with a dark secret has been appointed to the role. In addition, Arik's personal life begins to spiral out of control following a horrific accident in Paris.
But the worst is yet to come. An assassination attempt gone wrong in Morocco leads Arik into a fast-paced chase after the seasoned terrorist Ayman al-Uzbeki, but before long he realizes that his British allies have turned their back on him and are using him as bait in their game.
His life in danger, Arik knows that he can trust no one but himself to keep him alive. Now, more than ever, it is becoming clear that it is only a matter of time before an inevitable collision – one that is not necessarily with his enemies.