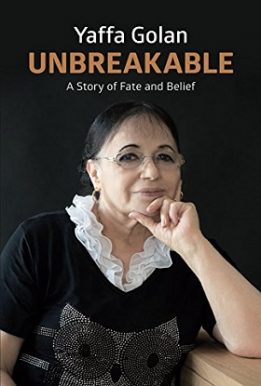 Author: Yaffa Golan
Language: English
Category: ביוגרפיה, יהדות, שואה
Unbreakable
What a difference can a single Jewish woman make?
She uncovered extensive bank fraud and received death threats. She exposed irregularities in nonprofit organizations that helped Holocaust survivors and struggled to bring the truth to light in the face of legal battles, persecution, and financial ruin. Meet Yaffa Golan, who was born in Lebanon and immigrated with her family to Israel, grew up in poverty, but against all odds became the manager of a bank branch and a highly successful businesswoman.
Fate and Belief are the major elements creating this inspiring life story. Golan has managed to establish a flourishing business and created legal precedents for benefits entitled to Holocaust survivors from the German Social Security pension for ghetto employees.
Faith and courage of a determined woman
A turbulent flow of events, unbelievable at times, illustrates the inner strength of a determined woman who single-handedly dared to overcome obstacles. Sharing her life experience, wisdom, acute business insight, a strong sense of intuition and the ability to predict consequences, the author relates fierce legal debates on matters of life and death; her own development of original patents; overcoming an addiction with a strong willpower; as well as an empowering, unique mother-daughter relationship.
Combining business and personal details, Yaffa Golan, born in 1942, offers a fascinating retrospective accord of special moments great and small in her volatile life, both beginnings and closures.