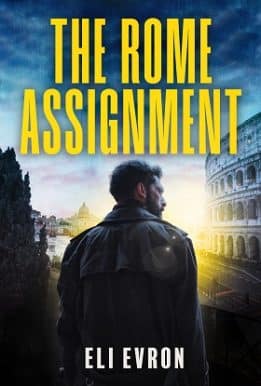 Author: Eli Evron
Language: English
Category: מתח, מסתורין, פשע
The Rome Assignment: A Gripping Realistic Counterintelligence Thriller
A veteran Mossad spymaster faces the fallout of vengeance from every direction, as multiple strands of history and espionage converge in the most realistically grounded intelligence novel in recent years.
With his marriage in the tank and his last promotion torpedoed by internal politics, Mossad Rome station chief Ben Gal wants nothing more than to relish the swan song of his career. But when an Iranian informant surprisingly falls into his lap, Ben is drawn into a cunning game of chess between two Middle Eastern nuclear powers.
The son of a Holocaust survivor, Ben uses every trick of the trade to try and outsmart his adversaries. As his mission unfolds, critical information comes to light concerning a notorious Nazi war criminal 70 years on the run, an international ring of art thieves, and a ticking time bomb in the heart of a major European city. Set against the backdrop of the Iranian nuclear crisis, The Rome Assignment sets itself apart with a layered and grounded portrayal of real-life espionage, terror, and the consequences the protagonists must face.