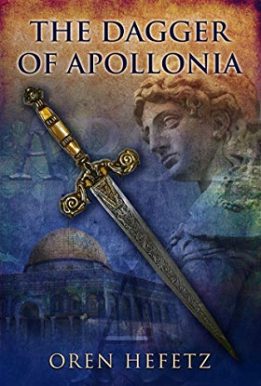 Author: Oren Hefetz
Language: English
Category: מתח, מסתורין, פשע
The Dagger Of Apollonia
A single dagger has the power to change the course of history
Georgios, a young Roman man, receives an unexpected gift from his father, a mysterious dagger acquired during his travels to faraway lands. The weapon sparks his untamable curiosity and sets him off on an extraordinary journey, full of surprising revelations.
Georgios accidentally finds himself amid political intrigues, messianic machinations, and supernatural powers, which threaten to disrupt the existing order of life.
1800 years later, Tal, a young university student, during a walk along the Israeli coast, discovers a mysterious new reality. Soon, he becomes the leader of an ancient order, responsible for preserving the delicate balance of powers in the Middle East.
Would Georgios and Tal accomplish the mission of a lifetime and defend everything they discovered, or is the entire region on the brink of entering a new, dangerous reality?