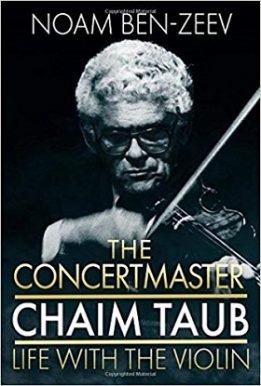 Author: Noam Ben-Zeev
Language: ENGLISH
Category: ביוגרפיה, יהדות, שואה
The Concertmaster
Encounter the heart and mind of extraordinary violinist and music educator, Chaim Taub
Offering a breathtaking account of the life and times of violinist, concertmaster, and teacher Chaim Taub, this book utilizes insightful interviews to form a mosaic of words, images, and music. It enables readers to be acquainted not only with the fascinating story of Taub's life, but also, with his rare view of the art of violin playing and musical performance.
Learn about Taub's remarkable career and how he inspired foremost musicians
From Chaim's childhood struggles with Perthes disease, to his early career in America, his return to Israel and international success as a legendary concertmaster and first violinist of the Tel Aviv Quartet, to his career as a brilliant pedagogue, this book never ceases to surprise and delight. Also included are heartfelt accounts from leading musicians such as Guy Braunstein, Eyal Shiloach, Roi Shiloah, Daniel Barenboim, Zubin Mehta, and Yaron Traub about how Chaim Taub touched their lives and influenced their musical careers.