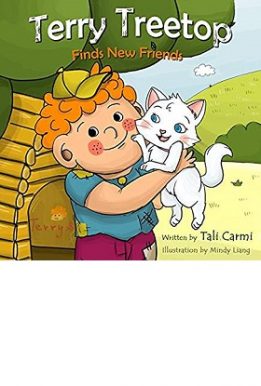 Author: Tali carmi
Language: English
Category: ילדים ונוער
Terry Treetop Finds New Friends
Join Terry for an exciting adventure and learn the value of friendship and the beauty of giving and receiving.
In Terry Treetop Finds New Friends, Terry goes on a journey to find new friends to invite to his new tree house. Along his way, he meets Betty the bee, Shelly the sheep, Cherry the chicken, and Kelly the cow, who are all too busy working to play with him. He is about to give up when an unexpected opportunity comes his way…
Terry Treetop Finds New Friends will inspire your kids to be active and positive in attaining their life goals and not give up on the quest for love and happiness. It will encourage your child to respect domestic animals and their contributions.
Teach your child essential life lessons in a fun and interactive way.
Written especially for children aged 2-8, it's a suitable read-aloud book for preschoolers and a great self-read book for beginner readers. Accompanied with beautiful full colored illustrations that children simply love.
**Special bonus: FREE educational card game!**
Join Terry Treetop for another adventure.
Terry Treetop is a boy with red hair and freckles who loves climbing trees, making new friends, visiting new places and helping out friends in need. Each of Terry's adventures is an opportunity to learn valuable life skills through a precious story that will leave you and your child smiling.
Terry Treetop encourages your child to:
— actively pursue their aspirations, needs and dreams
— make a real effort for what's important to them and not be easily discouraged
— be helpful, kind and considerate of others
— respect animals and enjoy nature
— trust themselves and remain optimistic even when things are hard