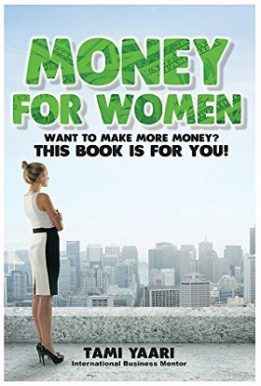 Author: Tami Yaari
Language: English
Category: עסקים, עזרה עצמית והדרכה
Money For Women
Make more money by being true to yourself
Women tend to be less "money oriented" than men, meaning they often overlook the connection money has with their freedom, satisfaction, self-respect, Life-quality and security at all ages. Throughout history, women have been promoting and supporting others – their children, spouses, families and their bosses – while forgetting about themselves. Humanity is in desperate need for feminine strength, but one cannot speak seriously about women's power and freedom without also talking about money.
Money for women is a practical and mind-opening guide to self-fulfillment and success. It reminds you that your capital has a direct influence on what matters to you the most, and that your financial potential is much greater than you think.
Don't remain oblivious to your financial status! Most likely, like most women, you can be making much more money than you are making right now
Women are amazing! caring, naturally diligent and intuitive, multi-tasking, and have emotional intelligence as well as brilliant minds. Why not direct all these talents and blessings to also elevate their financial status?
Money for Women will change your life by changing the way you see yourself and freeing you from the limitations blocking you from making the best use of your financial potential.
Acquire insight and methods that will change your abilities dramatically through fun and empowering exercises.
Money for Women includes:
True and inspiring women's stories.
Practical exercises for implementation and integration of the new knowledge.
Reflection on specifically feminine tendencies, such as taking care of others on the expense of your needs, avoiding bargaining and being too passive in changing your reality.
The "financial crystals"- talents and techniques you can use to elevate your financial status right now.
A special chapter is dedicated on how to create a harmonious and balanced relationship between fulfilling motherhood and a successful career.
Take responsibility for your financial status with new understandings and practical tools, and enjoy the freedom, happiness and security you need and deserve. After reading this book, you will no longer put finances aside. Step forward with new awareness to create the most wonderful life for you and your loved ones.