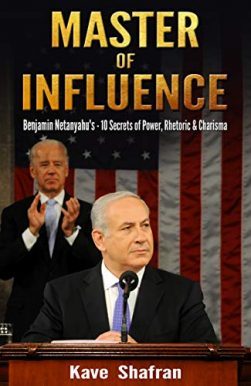 Author: Kave Shafran
Language: English
Category: עסקים, עזרה עצמית והדרכה
Master of Influence
How did Israeli Prime Minister Binyamin Netanyahu get Biden to applaud him? What was the unprecedented influence he had over Trump? Why do the Evangelists see him as a messenger of God? And how has he controlled, for so long, public opinion in Israel, the US, and all over the world?
This groundbreaking and fascinating book reveals, for the first time, the ten secrets of Netanyahu. The secrets of how he became a world master of influence which he asserted over Clinton, Obama, Trump, Biden, and many others.
The book includes new revelations about Netanyahu and gripping stories from behind the scenes during his time as prime minister and even as a child.
It centers around dozens of Netanyahu's never-before-seen private documents that reveal the secrets of propaganda, power, and charisma of the man who swept an entire nation and dictated global opinions – the ten secrets behind his speeches, interviews, and press.
This is Binyamin Netanyahu as you've never seen him before. A must-read for anyone interested in politics in the US, Israel, and the world.