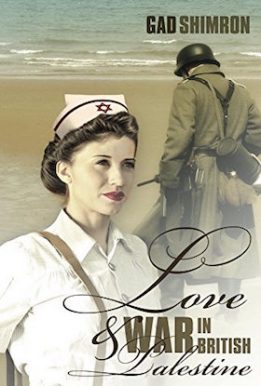 Author: Gad Shimron
Language: English
Category: רומנים, ספרות נשים
Love and War In British Palestine
An impossible love affair between a German and a Jew, situated in the beating heart of British Palestine.
"LOVE AND WAR IN BRITISH PALESTINE" is an unusual love affair that takes place in Jerusalem in the 1930s and 40s. Tamar-Henrietta Landwehr, a Viennese Jewish refugee, falls in love with Wolfgang Schwarte, a German man born in Jerusalem's German Colony. Heavy social pressure devastates the impossible relationship between Jewish Tamar and the Christian Wolfgang, offspring of the Templer community, many of which were active Nazis and supporters of the Third Reich.
Heartbroken and devastated, Wolfgang returns to Germany to pursue his studies. When the Second World War breaks, he is drafted as a commando paratrooper and finds himself dropped over Jericho to sabotage behind British lines. Tamar, who was trying to forget him, is astounded to spot him in Jerusalem in the summer of 1942, just as newspaper headlines are heralding Field Marshal Erwin Rommel's Afrikan Korps' invasion to Palestine.
˃˃˃ A sweeping historical novel based on extensive in-depth research
Jews and Germans, Englishmen and Arabs, underground extremists, British detectives, and Nazi spies "" all populate the pages of this wide-ranging historical novel, bringing turbulent Jerusalem in the time of the British Mandate to life. LOVE AND WAR IN BRITISH PALESTINE is more than an irresistible love drama: it weaves real events with fictional episodes and characters to create a fictional story that could have just as well been real.