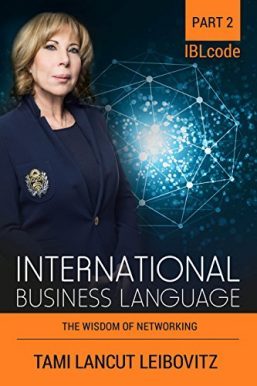 INTERNATIONAL BUSINESS – The Wisdom of Networking
Brand a personal image across the globe
International Business Language (IBL) Code is a premier guide for executives, businesspeople, politicians, celebrities, diplomats, and more seeking to brand a personal image across the globe.Let yourself be understood and appreciated with the help of the IBL Code.
Tami Lancut Leibovitz assists you in your effort to get to know the cultural traditions of foreign countries, you can systematically learn the International Business Language Code of success by using the complete IBL Code series:
Part 1 – The Basic Concepts of Multicultural World
Part 2 – The Wisdom of Networking
Part 3 – Verbal & Non-Verbal Business Communication
Part 4 – The International Business Dress Code
Part 5 – Formal & Informal Hosting Skills
Part 6 – Protocol, Etiquette and Business Culture
Part 7 – Media Communication and Public Performance
Part 8 – Practical Guide to Local Business Culture Per Country
Part 2 – The Wisdom of Networking
This part deals with the enhancement of the personal capacity to market oneself and do self-branding around-the-clock year-round, as a vital initiative required in a dynamic, fast moving world. We'll emphasize the need to develop relations with other people and suggest some ways for doing it. We will view the obstacles we face when forming new business contacts, and learn how to overcome them. We'll also offer insight into the need to prepare in advance for any occasion and implement its message because we do not attend events for no reason; rather there is always some clear and defined purpose for being present.
We will conclude this chapter by reviewing the issue of online networking, social networks on the web, and how to develop and use them efficiently for a successful business.
A must-have book
This is a must-have book for entrepreneurs, investors, executives, and fundraisers, as well as politicians, diplomats, celebrities, and anyone who wants to understand the inner workings of foreign countries.
Tami Lancut Leibovitz founded the International Institute for Image, Communication, and Etiquette in Business, Society, and Politics. As an advisor to public figures, senior executives, and diplomats, with thirty years of experience, Tami's books have become mandatory reading for people in business, media, and the public arena. IBL Code is a product of life-long, international expertise in the management of personal image branding.