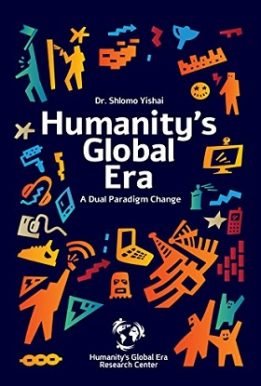 Author: Shlomo Yishai
Language: English
Category: עסקים, עזרה עצמית והדרכה
Humanity's Global Era
Are we standing on the brink of a new era?
Are we being called upon to reshape the reality of our lives, for us to meet the new human capabilities?
Within two decades our lives have undergone a fundamental change. Up until now humanity had existed in a single, defined world, yet today we exist simultaneously in both a real and a virtual world. Humanity has developed a parallel world – a world that exists, that is significant, powerful and even threatening. It is present in every aspect of our lives. This, in turn, is generating a change in the human essence.
The three powers of leadership are passing from the leaders to the people:
The economy is run on a global level.
Military and professional knowledge are freely available.
The communication media is changing – everyone has the power to appeal to the masses and harness them to their goal through the social networks.
˃˃˃ New challenges deriving from the new human era:
This book deals with the new challenges deriving from the new human era. It presents the moral, educational and leadership challenges that stem from the new reality and offers tools to deal with them. These tools are based on innovative research dealing with the meeting point between the research of emotions, the research of technology, and the wisdom we have acquired over many generations.
˃˃˃ Reviews:
"Dr. Shlomo Yishai, who deals with the Research of Emotions, focuses on the changes humanity is undergoing in the Era of the Global Person and presents practical coping tools that each and every one of us needs to deal with this new age. In his book, Dr. Yishai emphasizes the importance of emotions for leaders who are facing this changing reality. The question of appropriate leadership in this era is complex, and Dr. Yishai presents important tools for developing such leadership. Highly recommended."

Prof. Aharon Ben-Ze'ev, Dean, Haifa University, 2004-2012

***

"Dr. Shlomo Yishai is an experienced educator and a scholar of Jewish Thought in the Middle Ages and modern times. In this fascinating book he deals successfully with the challenges facing people growing up in a world that has become global before their very eyes. The book focuses specifically on the challenge of leadership in the Global World and presents practical models of coping, which Dr. Yishai developed in civilian and military institutes."

Prof. Menachem Kellner, Shalem Academic Center, Jerusalem, Haifa University (emeritus)

***

"Dr. Shlomo Yishai was involved in the establishment of the Air Force Academy for Senior Officers. The great interest, learning and development we gained from meeting with him led us to adopt the method he developed as the basis for the Academy's educational rationale. There is no doubt that the Academy's success stems from the quality and tailoring of his method, which has empowered the leadership abilities of the Air Force commanders.

The practical models described in the book – the Human Trio and the Key to Leadership ""provide everyone with the opportunity to enhance the results of their actions in the face of the new era in which we live in, and herein lies their importance".

Lieutenant-Colonol Golan Ya'ir (ret.), unit 669 commander, founder and first commander of the Israel Air Force Academy for Senior Officers.

-->