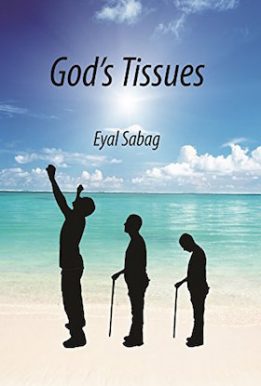 Author: Eyal Sabag
Language: English
Category: עסקים, עזרה עצמית והדרכה
God's Tissues
Eyal Sabag is one of the most sought-out coaches and motivational speakers in Israel. Here he provides a "hindsight" glimpse into his unbelievable life, revealing his story of transformation: from almost complete disability (caused by cerebral palsy at birth) to a lifetime of fulfillment and self-realization. As Eyal often advises, "if I can do it, so can you!"

At the age of 24, after enduring years of self pity, needy reliance on others, insecurity, and a strong belief that his life is just a product of one case of very bad luck, Eyal found another way to live. On this new path, which he calls "From Disable to Able," Eyal has learned how to use the seemingly magical power of the subconscious, positive thinking, and imagination; all of which opened the door to a brand new world: one in which he retook control over his choices and actions in life. Eyal now leads a life enriched by taking practical and responsible actions. He says he has never felt happier, stronger, or more whole.

Through a deep inner perspective, enhanced by a light and humoristic approach to life in the face of hardships, in this book Eyal provides you with a set of practical tools that allow you to go from a "fixation state-of-mind" to spiritual, mental and physical prosperity and freedom.
Ask yourself the following questions:
Are you happy?
Is there love in your life?
Do you feel content with what you do?
Are you satisfied with your employment situation?
Do you just make ends meet each month?
Are you appreciated where you work?
Are you aware of the huge potential that lies within you?
Do you believe that your future is predetermined and cannot be changed?
˃˃˃ This book is for you if you're ready to change your mindset, and delve into new and exciting life's adventures.
The Hebrew version of Eyal's book sold thousands of copies in Israel, and is finally brought to you in English. Mr. Sabag is an Adlerian coach and motivational speaker. Among his clients one finds organizations such as the Israeli Air Force, the Adler Institute, the National Security Institute, government offices, Tec companies, and many others.

-->