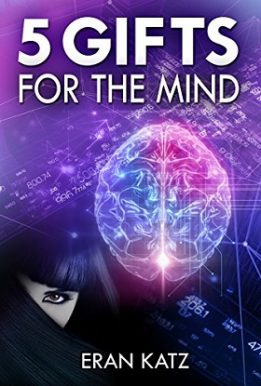 Author: Eran Katz
Language: English
Category: מתח, מסתורין, פשע, עסקים, עזרה עצמית והדרכה
Five Gifts for the Mind
Practical brain skills weaved into an intriguing suspense story
Professor Jerome Zommer receives an anonymous letter signed by an 'Asian student' challenging him with five seemingly impossible assignments, related to powerful brain skills. Her letter leads him to an unprecedented journey into Asian and Jewish wisdom and its potent contemporary implications. The shocking discovery will shake professor Zommers personal life, revealing one of East Asia's most mysterious historical facts.
Five Gifts for the Mind will teach you to:
Erase unwanted memories and data from our brain using Jewish and Korean techniques.
Make ANYONE buy your idea or product, using the Jewish and Chinese five step persuasion program.
Hypnotize your customers using Japanese neuro-aesthetic rules of beauty that have used Apple inc. to create this impact.
Control your desires using the amazing '400 meter' method and enjoy "guilty" sins without regret and guilt.
Apply six Indian brain 'apps' that prevent making fatal mistakes and learn to make right decisions in seconds!
A suspenseful, useful, fun and inspiring read!
Ranked #1 on the Israeli and S. Korean bestsellers list.
Apply brain research and traditional knowledge for success and achievement.