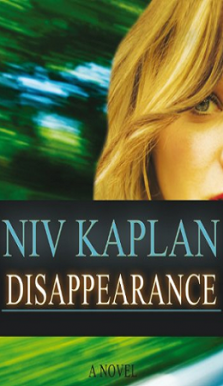 Author: Niv Kaplan
Language: English
Category: מתח, מסתורין, פשע
Disappearance
What will a young man be willing to do to find the lost love of his life?
Karen Glass, an American high school graduate, is visiting a kibbutz in Northern Israel. She meets Mikki who lives on the kibbutz and they become passionately involved. They fall in love, but on her birthday, while they are on a tour of the Upper Galilee, she suddenly disappears from his car.
Mikki is devastated when the police official investigation is abandoned under questionable circumstances; the motive for the presumed kidnapping is unknown and Karen's fate remains a mystery.
Three years later, a special-forces unit stumbles upon a photo of Karen at the time of her kidnapping. Mikki's faith is finally renewed and he alerts Karen's sister, Lisa. Together they begin a perilous journey across three continents, searching for clues that will shed light on the mystery.
They uncover an ominous family secret that has cast a dark shadow on Karen and Lisa's family for many years, which becomes key to learning the truth.
DISAPPEARANCE is a suspenseful love story. It will startle you, disconcert you, capture your heart and keep you wondering how much can be sacrificed in the name of love.