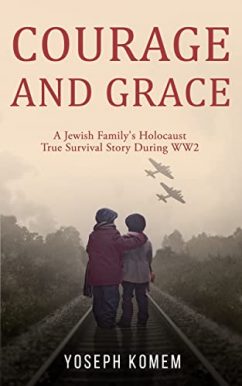 Author: Yoseph Komem
Language: English
Category: ביוגרפיה, יהדות, שואה
Courage and Grace
A family's unbelievable survival in the face of the Holocaust
Yoseph and Itzhak Komem are two young Jewish brothers hiding under fake Catholic identities in the Aryan side of a Polish town during the Holocaust. Their fascinating testimonies are brought together with those of their deaf father, their mother, and others, to convey their life stories and their unbelievable escape from the Nazis.
You'll read this amazing literary, historical, and biographical document with bated breath
The novel weaves an unbelievable mix of everyday and nightmarish reality, between the ghetto and outside of it, colorfully portraying the struggle to survive on the rear lines of a war between the Wehrmacht and the Red Army. The memories conclude with the period of life after liberation: in the Polish People's Republic, in an orphanage in France, in a boarding school in England, and in the Land of Israel.
A drama of tragedy and rescue, dare, courage, and grace
Courage and Grace offers a unique memoir of the Second World War, written in the form of a polyphony— a chorus of voices that reverberate with each other, highlighting their differences in experience and points of view. The author recreates a gripping and suspenseful mosaic of daring escapes, concealment, and acts of valor, portraying the struggle for survival in the face of a living nightmare.