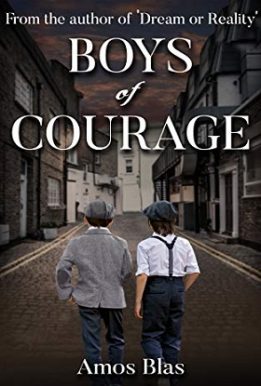 Author: Amos Blas
Language: English
Category: ביוגרפיה, יהדות, שואה
Boys of Courage
To stay with your parents and younger siblings, with everyone risking death, or to try and save at least your own self?
Poland, 1939. Kadish, a daring young man and the cousin of the author, puts his life on the line in order to smuggle food into the starving ghetto, to sustain his distressed parents and help his younger cousin. After he escapes the ghetto through the sewers, the author never sees Kaddish again, nor does he know whether he has survived hell.
Israel, the present. "Lifting the receiver, still groggy with sleep, I heard an un¬familiar voice utter my full name and ask if it was me on the line. I replied, "yes," a bit angrily, not happy at being woken at such an hour. Apologizing, the caller identified himself as Yaakov from the Forensic Institute in Yaffo."
This was the conversation that led to a series of chilling meetings between two seniors, who reveal their stories of growing up and performing daring deeds under the horrific shadow of the Holocaust, a depiction of their experience in the choking Warsaw Ghetto, which was destroyed with its half a million residents, survival using the fake identity of a Christian child, fighting in the forests and conducting operations of retaliation against the Nazis.
Boys of Courage is a window into the atrocities and injustices that humans are capable of inflicting on their neighbors, seemingly convinced they are acting for their own good and that of their country and faith. On the other hand, it tells how against all odds, the two heroes learned, each in his own different and utterly powerful way, to cope by overcoming hardship and loss. The pair learn how to fight and bounce back; how to rejoice and love intensely.