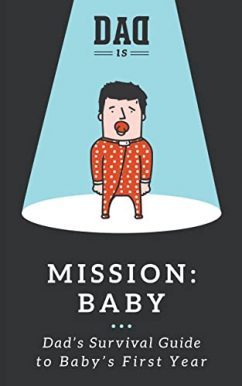 Author: Dad Is
Language: English
Category: עסקים, עזרה עצמית והדרכה
Baby – Dad's survival guide to baby's first year
Hey, Daddy. Welcome to the Parents Club!
If you are a new dad, or will be one soon, this is the book for you!
And if you are a new mom, this is the BEST gift for your partner!
"Mission: Baby" is a funny, informative, and masculine guidebook for dads of infants, from birth to one year of age – the best guide for your first year as a dad!
It focuses on five critical topics in your baby's life: food, sleep, diapers, illness, and games, and shares dozens of useful tips and tricks – all so that you, the new father, can succeed in the most important task you've ever been given – raising a baby!
How to get the baby to fall asleep when you're REALLY desperate…? How to prepare the perfect bottle, and why it feels like planning a complex military operation…? Does the baby really need a wet-wipe warmer, and how much does it cost…?
The complete guide to gadgets for babies… 5 things you should have known before having a child… How to feed, clean, and play with your baby…? What is this infamous "gas," and how can you deal with it…? And most importantly: will you ever have sex again???
This is a must-read for every man who's about to become a father (or has just become one), and for every woman who wants to survive the first year of parenting without her partner running away (or hiding for days in the bathroom).