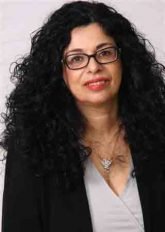 ליאת זלצר
Liat Zelzer MSc is a Psychotherapist and Cognitive Behavioral Therapist, who holds a Bachelor's degree in Psychology and Education and a master's degree in CBT.
Liat specializes in the subjects of education and interpersonal communications. In the treatments and lectures she conducts she combines different methods such as NLP, SE, CBT and the Adler technique.
For the past 15 years she had been treating adults and children and providing guidance to parents in her private practice.
Today, Liat acts as a senior counselor in Michal Daliot's Supernanny team. She is also a lecturer and senior parent counselor at the Adler Institute.
Over the years Liat has developed the Balancing Point technique, a method that helps bridge gaps in interpersonal communication within the complexity of the family unit in the era of electronic communication.
Liat describes herself as "As a woman and a mother, I have a deep understanding of what parents must deal with at different stages in life. After having accumulated so much experience and studied numerous treatment methods, I have the will and the way to help my patients find the track that is right for each and every one of them."