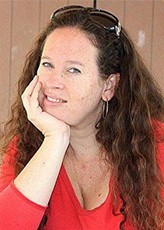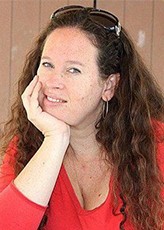 תמנע קורץ
Timna Kurtz is a book author, writer and editor of biographies and life-stories, teaches creative writing workshops and a true believer in dreams.
Timna Kurtz, 42 years old was born in Israel, in Kibbutz Messilot. Timna is divorced and a mother of a twelve year old teenager.
Timna began her career as a writer as soon as she learned how to write the first year of school. Her first story was an adventure of her classmate's trip to Africa, she wrote in the second grade, and her first poem she wrote was a protest against the war in Lebanon which took place in 1983.
Timna always knew she will be a writer, despite of the efforts to steer her in a different, more realistic path.
Writing was always present in her life, and although she tried various career changes, she always went back to writing.
Timna worked with children, in the informal education system for over ten years. During that time, she gave laughter workshops to children in schools amongst other things. She also taught special education children and autistic children, guided teenagers, and pre-school children as well. In doing so, Timna acquired the knowledge and insights into the very special imaginary world of children, a look into their psyche and the understanding of the mental processes of growing up, which in turn prompted the writing of her first book, "The Journey to AinVorik".
Timna published her first book, "The journey to AinVorik" – a story about an imaginary land that exists somewhere inside our souls, at the age of thirty three. Since then, Timna decided to commit herself solely to writing, and began writing biographies for those who wished to leave a spiritual legacy for their families.
Timna was always passionate about history, and loved to listen to the elders as they told their stories. This passion was realized through the writing of biographies which gave Timna the opportunity to write history in a form of a life story.
Through the years Timna expanded her talent by writing short stories, articles for magazines, contents editing and posts for the internet.
Today Timna teaches creative writing, and how to write biographies, while continuing to write herself, as she believes that the knowledge we acquire during the course of our lives should be shared with others.
Timna started writing her second book at the beginning of 2007 following a prophetic dream about the end of the world. The story became a four part series that begins with "The old world".
Among her many interests Timna is an avid nature photographer.