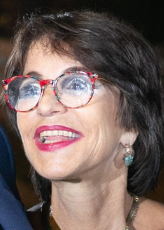 דר' רות פרוינד
Ruth Freund is a senior civil servant in the Israeli Ministry of Health, where she heads a department that oversees the management of the 46 general hospitals in the country. Freund is married to the former director of the surgical wards at Hadassah Mt. Scopus and a mother of two grown children.
Freund was born and raised in Jerusalem, lived there most of her life and still resides in the city. At the age of 18 she was recruited to the military. She served in the Israel Defense Forces as a parachute folder and was released at the rank of Sergeant. Freund is a registered nurse by training, and holds a Master of Public Health degree from the Hebrew University.
Freund spent years working as a nurse in the ICU unit at Hadassah Hospital. Years of listening and caring for others that strengthened her innate compassion. Alongside her demanding career, Freund enjoys painting and recently presented three exhibitions of her work. She sings in a community choir, plays bridge, and makes a point not to miss her weekly Pilates and yoga classes.
Freund has written three novels, all of which were published in Israel. Bound by Debt has become a bestseller and was her first book to be translated into English. The intimacy of her writing style gives readers the sense that Freund has lived the story. When Freund's mother finished reading this book, she called her daughter and asked, "Tell me, Ruthie, were you a prostitute?"