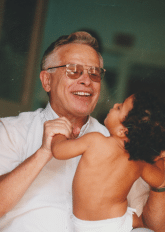 פרופ' שאול הראל
Shaul Harel is a pediatrician and specialist in child neurology and child development, and professor emeritus of pediatrics at Tel Aviv University. His main fields of research are problems in child neurology and development, Intrauterine growth restriction, and brain development.
Shaul Harel was born in 1937 as Charlie Hilsberg to parents who immigrated to Belgium from Poland several years earlier. He was saved from the Holocaust by the Belgian resistance and the Committee for the Defense of Jews. When he was only five, he was separated from his family and hidden in various places in Brussel, before losing his parents and siblings in Auschwitz. In 1949 he immigrated to Israel with Aliyat Ha'Noar.
Harel graduated from the Hebrew University in Jerusalem with a medical degree in 1966. He specialized in pediatrics at the Tel Aviv Medical Center and earned his specialist's degree in 1971. Between 1971 and 1975 he trained as a fellow at UCLA and USC in the field of pediatric neurology and child development. In 1988 he was appointed as associate professor and in 1993 as full professor at Tel Aviv University's school of medicine. Harel is co-founder of the Israeli Child Neurology association and was its president for several years. In 1998 he was elected as president of the International Child Neurology association.
He has been awarded many certificates and awards, including:
January 2001 – Received Ministry of Health Award for Excellence and Contribution to Medicine
November 2010 – Israeli Society for Child Development Award for a Lifetime Achievement and for Contribution towards Promoting Child Development in Israel
September 2011 – Award for excellence for work in Child Neurology and initiation of meetings of child neurologists from the Mediterranean Area, Piran Slovenia
October 2011 – The American Child Neurology Society (CNS) Arnold P. Gold Award for Humanism in Medicine
May 2016 – Honorary distinction of "Officer of the Order of Leopold" presented by Mr. Didier Reynders, Belgian Deputy Prime Minister and Minister of Foreign Affairs at the official residence of Count John Cornet D'elsius, Ambassador of the Kingdom of Belgium in Israel.
October 2018 – Israel Society of Pediatric Neurology and Development (ISPN) Award for Lifetime Achievement and for Contribution towards Promoting Pediatric Neurology in Israel
In 2003, following his visit to Auschwitz and the discovery of the fate of his father and brothers who were murdered there during medical experiments, he decided to investigate his past as a Holocaust survivor and hidden child and became an active commemorator of the Holocaust and the wonderful work of the Belgian resistance. In 2007, he organized the Hidden Children Convention in Belgium, which was attended by the child rescuer Andrée Geulen. Later, he created the documentary film "Children Without a Shadow", which tells his own story including his immigration and integration to Israel and enlistment to the world of medicine. More recently, he wrote and published the book "A Child Without a Shadow" with his wife in Hebrew. It was later translated to French.