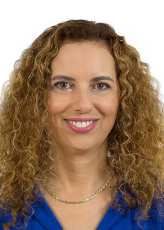 דר' פנינה ארד
Dr. Pnina Arad is the founder of 'LeadUp', a qualified couple counselor, group facilitator and women's empowerment life coach, specializing in neurodiverse relationships. She has helped hundreds of women and couples in Israel and around the world to surmount their challenges and change their lives. She works both in her private clinic and online.
Pnina holds a Psy.D. degree from the Professional School of Psychology in California, U.S.A. Her doctoral research was the first empirical study exploring the physical and mental well-being of women in intimate relationships with men on the autism spectrum as compared to women in neurotypical relationships.
Drawing on her research and professional experience, Pnina is committed to creating awareness, sharing knowledge and assisting women and couples to successfully navigate the complexities of neurodiversity in their relationships. Pnina has been married for 27 years and is the mother of two grown boys. She resides in Israel.
https://lp.vp4.me/efpr