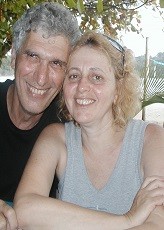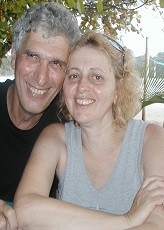 צור עמוס וצפי
Tsafy and Amos Tsur live in Israel. They are partners in life and in work. The uniqueness of their approach is that they treat couples together as a team, In Israel and abroad. They specialize in combining the conscious, sub-conscious, imagination, images, hypnoses, creation, energy, and intuition – as well as the principles of Buddhism and psychology – in their work.
For years they have taught courses to train therapists at the University of Tel Aviv and have demonstrated their couples counseling methods on Israeli television. They wrote two books that have garnered much success and become bestsellers in Israel.
The Secret of Being Together was written jointly, during the year that Amos and Tsafy chose to live in Costa Rica in a secluded home in the jungle on the edge of the ocean, with monkeys and iguanas as an inseparable part of their lives. That was truly a dream come true.
Their second book, Being a Butterfly, focuses on demonstrating the healing powers of the imagination. That book is Amos' "journey" into the world of imagination, his and others, while Tsafy accompanies him in the process of writing. A newspaper review awarded him the nickname "Modern Shaman."